Join our 6 ½ hour training weekend to receive gong certification in Level 1 & 2 with Barbara Salmeron! 
FRIDAY, JULY 21
5-8PM
SATURDAY, JULY 22
1:00-4:30PM
$300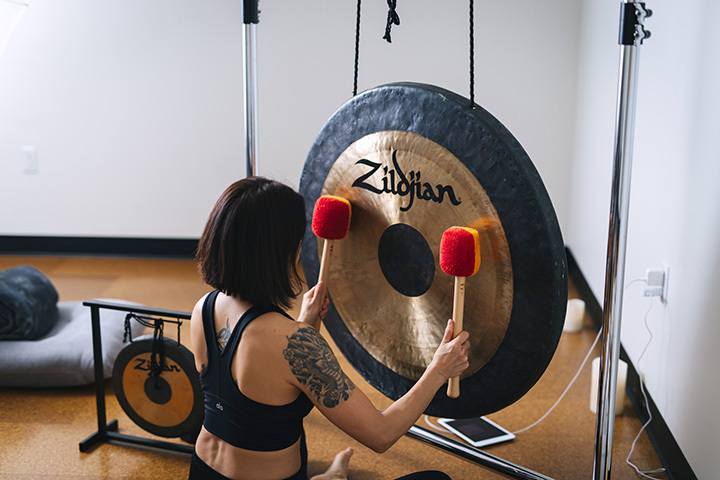 The gong is one of the very first musical instruments ever created, and in its many tones is found the sound of creation, the sound of "Om." Because the tones and vibrations of the gong do not follow a predictable pattern like other musical instruments, the mind cannot make sense of it and must give up, giving way to the gong. This is when the body's self-healing begins!

The gong quiets the "Monkey Mind", allowing for a deep and effortless meditation, while working through the vibrations of sound to activate our body's ability to heal at a cellular level! The gong and other modalities, such as yoga or Reiki, work very nicely together.
GONG CERTIFICATION LEVEL 1:
Join us for our "Introduction to Gong" class, specially designed for people who are interested in learning more about the gong and how to play it! We will touch on the do's and don'ts, some specific techniques, the various types of gongs and mallets, and allow plenty of time to practice! This will be a fun and intimate class, and the gongs will be provided for you!
Students will learn:
-How to tune-in vibrationally to the Gong.
-Learn and practice strokes for healing.
-Identify types of Gongs, Mallets, and accessories.
-Find where to purchase Gongs at a discount.
-Provide multiple resources for further education and training.
-Play, practice, and play some more.
GONG CERTIFICATION LEVEL 2
Join us for our "Level Two Gong Training" class, where you will learn how to play even more gong techniques!A 3.5 hour class, learning to "let the gongs play you"! All equipment provided!
Students will learn:
.Seven additional methods/strokes for playing.
-About more of the Gong's history and manufacturing methods.
-How to Identify types of Gongs, Mallets, Stands, and Carriers.
-Expanded self-healing techniques with the Gong.
-Where to discover your spiritual name.
-Where to purchase Gongs at a discount!
-Provide multiple resources for further education and training.
-More time for Q & A with your Gong Master/Teacher
-Play, practice, and play some more.
Bring your healthy snacks (think energy food), as we eat, play and ask questions.
CEU'S AVAILABLE FOR YOGA ALLIANCE.
Cost for this gong certification course is $300/person. As always, members get 10% off!
Following the gong certification course on Saturday, join us for a special Gong Soundbath led by Barbara!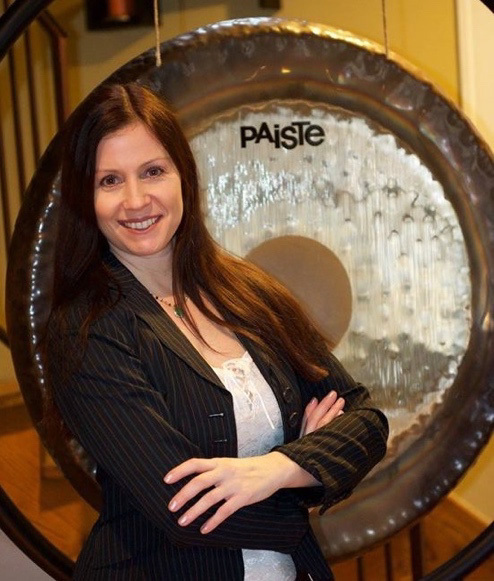 ABOUT BARBARA COLE SALMERON:
Barbara Cole Salmeron is a Speaker, Author, Relationship Capital Consultant, Coach, Stress-Relief Specialist, Gong Master/Teacher and Reiki Master/Teacher, and more… Her mission is to Provide Professional Tools for Professional People. Utilizing time-tested and scientifically proven stress-relief methods, your group or employees will learn immediate, effective ways of dialing down the drama in the office and refocusing their efforts on work. This creates greater productivity, happiness, well-being, and a deeper sense of self, which results in an all-around more successful business and home life.
In addition to her training, Barbara has lived in several countries and studied many forms of stress-reduction utilized by various cultures. Her real-world teaching style and down-to-earth way of relating help people feel safe and comfortable while learning.
Barbara's passion for speaking and teaching how to lower stress to increase wellness means that she offers more than a talk—she creates an unforgettable experience by utilizing tools and technologies to create dramatic stress relief.